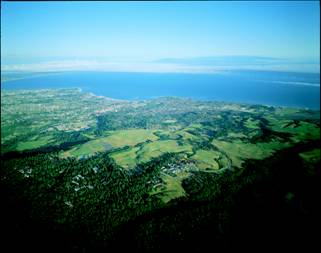 Arial view of UCSC campus.
Welcome to the 2010 Santa Cruz Galaxy Workshop homepage!
This year's organizers are Avishai Dekel and Joel Primack.
To confirm your participation and give your dates of attendance, please visit our participants page.
Click here to view the Santa Cruz Galaxy Workshop 2009 webpage.
Directions and Transport
Directions
The meeting will be held in the Media Theatre, Theater Arts M110 on the UCSC campus. You may find campus maps useful for getting around on the UCSC campus. Paper maps are freely available at the main entrance kiosk at the base of campus during business hours. The Theater Arts Center is located east of Heller Drive, and is best accessed from the West Entrance of the campus. At the Main Entrance, proceed west on Empire Grade, then turn right on Heller (the West Entrance). Go four stop signs and turn right on Meyer. Directions to University of California Santa Cruz http://maps.ucsc.edu/cmdirections.html are also available from:
Parking
You may purchase one-day temporary parking permits at the main entrance kiosk located inside the campus main entrance, or at the TAPS Sales Office located in Barn H. Sales office hours are 7:00 am to 5:00 pm and kiosk hours are 7:00 am to 8:00 pm, Monday through Friday. A temporary one-day permit is $6.00. Night parking permits cost $3.00 per night. Visitors from other UC campuses may be eligible for parking reciprocity when visiting UCSC. Permits are not generally required for weekend (Saturday / Sunday) parking.
We recommend that you park in the West Remote Parking Lot which is located near the THEATER ARTS CENTER AND MEDIA THEATRE M110. Click here for directions.
Alternatively, participants can find free parking off campus and commute to the school using alternative methods of transportation (i.e. walking, biking, public transportation etc...).

Airport shuttles
Shuttle services from the airport to campus or to your lodging are available for a fee:
· Early Bird Airport Shuttle
Reservations required.
· Surf City Shuttle
Reservations required.
Public transport
Public transportation options to, from, and around Santa Cruz can be found at I Ride the Bus.
---
Lodging
The recommended lodging during the 2010 Galaxy Formation Workshop will be the
For reservations, you will need the UCSC ID#, (ask UC-HIPACC Administrator, " admin@hipacc.ucsc.edu" or Nina McCurdy "nmccurdy@ucsc.edu"), and a personal credit card. Also please let them know that the workshop is through the UCSC-UC-HIPACC. The UC Business rates are:
June through September: King/Queen - Sun-Sat - $80.00/night; Double - Sun-Sat - $90.00/night.
If you will be staying an additional week for collaboration, either before or after the workshop, you may want to try the following suggestions for a bit longer term and possibly less expensive housing:
In addition we have a listing from Academic HR, which contains many housing options for extended stays, typically in faculty/UCSC employee houses. This list is available upon request.
For questions about accommodation contact UC-HIPACC Administrator "admin@hipacc.ucsc.edu" or Nina McCurdy " nmccurdy@ucsc.edu "
---
Funding
UC-HIPACC (University of California High Performance AstroComputing Center) is co-sponsoring the 2010 Galaxy Formation Workshop.
UC-HIPACC's major purpose is to encourage collaboration on computational astrophysics between groups at UC campuses and DOE Labs. We are willing to help with lodging support for those UC students interested in attending the Galaxy Formation Workshop. If you are interested in UCSC housing support please send an email UC-HIPACC Administrator, "admin@hipacc.ucsc.edu"
---
---
Contact
Avishai Dekel (dekel[at]phys.huji.ac.il)
Joel Primack (joel[at]scipp.ucsc.edu)
Nina McCurdy (nmccurdy@ucsc.edu)
UC-HIPACC Administrator Esperanza Zamora (admin@hipacc.ucsc.edu)

UC Santa Cruz is home to one of the country's great Shakespeare Festivals, which coincides with our workshop. We have reserved 20 tickets for Love's Labors Lost on the night of Aug. 18, at a group discount of $38/ticket. The first 20 workshop participants to sign up will get this price. The regular price is $43. If more than 20 people sign up, there will most likely be more tickets available but at the higher rate.
To find out more about Love's Labors Lost, visit
http://shakespearesantacruz.org

Two other great productions are going on in repertory with Love's Labors Lost, in case you want to see them all: Shakespeare's Othello, and the modern play Lion in Winter.
Click here for more details.

To sign up for tickets to go with the group on Aug. 18, please email Nancy Abrams at nancysview@gmail.com with your name and the number of tickets you want. If you have a US checking account, you must send Nancy the money to keep your reservation (check should be made out to Nancy Abrams). Use this address: Nancy Abrams, 575 High St., Santa Cruz, CA, 95060. If you are coming from abroad and can't write a check in US dollars, you may pay her when you get here. If you want to go to any other performance, you can buy tickets online at shakespearesantacruz.org
The Galaxy Workshop registration fee will cover lunches delivered each day plus morning and afternoon coffee breaks. In addition we will have a gala banquet on Thursday night, August 19, at the UCSC University Center at a cost of $35 per person.
Please pay the Registration Fee and order tickets for the gala banquet here.
Any questions and/or issues regarding registration may be directed to Nancy Moore by email: nmoore@ucsc.edu or by phone: 831-459-5092