HiPACC Conferences & Workshops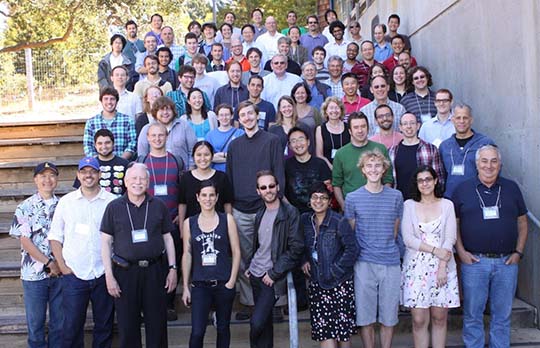 2013 Santa Cruz Galaxy Workshop, UC Santa Cruz, attendees. Image credit: Trudy E. Bell
2011 Galaxy Workshop attendees. The three men in the front row with arms around shoulders are Joel Primack (left), the surprise guest of honor David Koo (center), both from UC Santa Cruz, and Avishai Dekel from Hebrew University in Jerusalem. Image credit: Trudy E. Bell
The 2011 Galaxy Workshop, an invitation-only event co-sponsored by UC-HiPACC and held in August 2011 on the UC Santa Cruz campus, brought together 60 international experts as well as graduate students and post-docs to discuss work-in-progress research.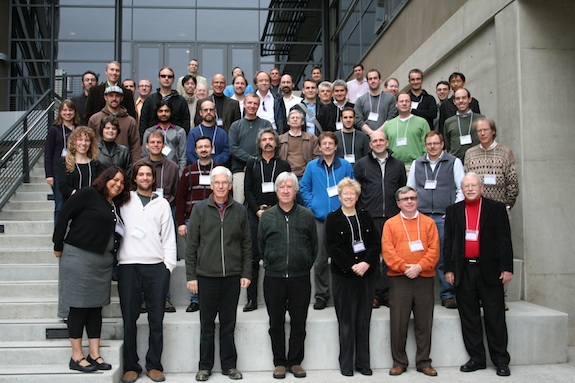 2010 Future of AstroComputing conference attendees. Image credit: Nick Frey

The Future of AstroComputing was in December, 2010 at the San Diego Supercomputer Center (SDSC). A main goal of this conference was to clarify the big issues for the next five years or so in astrophysical computation and data. Another goal was to bring together leaders in the field, at the main funding agencies, and in industrial organizations to meet with key computational astrophysicists—especially those from the University of California and other West Coast institutions including Stanford University, the California Institute of Technology, and the University of Washington.
Upcoming Conferences & Workshops
Past Conferences & Workshops