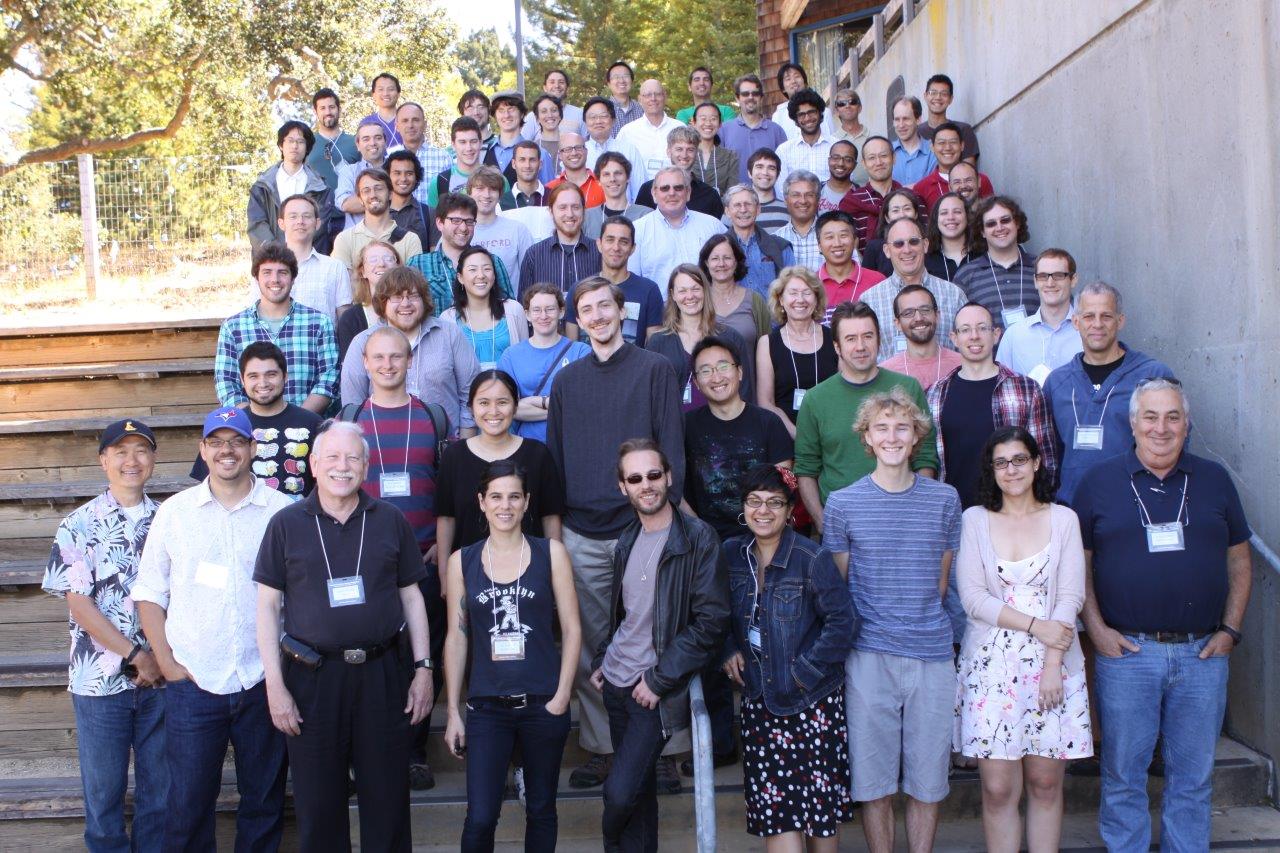 2013 Galaxy Workshop Participants. Photo: Trudy E. Bell
Welcome!
Welcome to the 2013 Santa Cruz Galaxy Workshop homepage!
Galaxy Workshop, August 12-16, will be held in Oakes College, Room 105. If you will be participating in AGORA, August 17-18, it will be at ISB 102. [View PDF map]

Organizers: Avishai Dekel and Joel Primack.
Click here to visit the 2012 Santa Cruz Galaxy Workshop Website.
Program
Videos: Day 1 Day 2 Day 3 Day 4 Day 5
Slides and Video for each talk will be posted here.
*For the scientific program of the 2nd AGORA Workshop on Aug. 17-18, please visit here
Directions
This year's workshop will be held at Oakes College Room 105. Please click here for a Oakes College Map in PDF. This map also includes your Check In and Housing Location.
If you will be participating in AGORA, August 17-18, it will be at ISB 102. [View PDF map]
Directions to University of California Santa Cruz http://www.ucsc.edu/visit/maps-directions.html
Housing
The cost is $98.25/night and includes linens, parking, breakfast & dinner in a nearby college cafeteria, but no cleaning or janitorial services.
Choosing the on campus housing may be convenient as it will be in close proximity to the Oakes 105 auditorium where the Galaxy Workshop will meet.
Below is a list of local lodging options as well.
Parking
Please enter the UCSC campus through the West Entrance and follow the signs toward Oakes College. Our conference will be parking in Lot 162 and at the back of the parking lot there will be a check-in table on Monday morning. If you have paid for parking, you can pick your parking permits up there; if you still need to pay for parking, you will be able to do so there as well. Keep in mind that if you have a car on campus you must have a permit; the officers ticket regularly, even in the summer. Once you have parked, there will be signs to Oakes 105 & Oakes 106 where you can check in.

Airport shuttles
Shuttle services from the airport to campus or to your lodging are available for a fee:

Public transport
Public transportation options to, from, and around Santa Cruz can be done through the Santa Cruz Metro.
---
The weekday rates at the Mission Inn are $89.95 (tax not included). Please mention you are here for the Galaxy Workshop at UCSC.

If you will be staying an additional week for collaboration, either before or after the workshop, you may want to try the following suggestions for a bit longer term and possibly less expensive housing:
Craig's List - Craig's List shows housing for rent in many areas- just select the Santa Cruz locations from the following Monterey Bay Area list
In addition we have a listing from Academic HR, which contains many housing options for extended stays, typically in faculty/UCSC employee houses. This list is available upon request.
For questions about accommodation contact Sue Grasso at "hipacc@ucsc.edu"
---
Funding

UC-HIPACC (University of California High Performance AstroComputing Center) is co-sponsoring the 2013 Galaxy Formation Workshop.
A major goal of UC-HIPACC is to encourage collaboration on computational astrophysics between groups at UC campuses and the affiliated DOE Labs. We are willing to help with lodging support for UC students interested in attending the Galaxy Workshop. If you are interested in UCSC housing support please send an email to Sue Grasso at "hipacc@ucsc.edu"
---
If you have a free evening during the workshop, consider attending an outdoor performance by the acclaimed repertory company Shakespeare Santa Cruz.
---
Contact
Avishai Dekel (dekel[at]phys.huji.ac.il)
Joel Primack (joel[at]ucsc.edu)
Sue Grasso (hipacc[at]ucsc.edu)

Registration
Hello workshop participants,
The Galaxy Workshop is fast approaching! This year's workshop, Monday to Friday, August 12-16, will take place in Oakes College, Room 105, to be followed by the AGORA meeting, August 16-18.
The registration fee this year will be $100, which will cover daily lunches and snacks as well as the banquet on August 12, honoring Bill Mathews. His web page can be found at:
http://www.ucolick.org/~board/faculty/mathews.html

At this time, please register for the workshop using the link: http://goo.gl/VOJxnM
or https://regstg.com/Registration/Registration.aspx?rid=7d3a7608-6bab-4ff0-b6cf-408933c3ae24
Information about the workshop, including the program as well as maps and travel information, on this website.

If you have any comment about the program, kindly respond asap.
Any questions regarding registration may be directed to Nancy Moore at nmoore@ucsc.edu and by phone at 831-459-5092, or to Sue Grasso at hipacc@ucsc.edu.
Questionnaire
Questionnaire: https://docs.google.com/spreadsheet/viewform?formkey=dE5ZVnFCME1Qdk5LS0tSUEdQYlBtUnc6MQ#gid=0
This is important!

You will be asked to provide information including specific days of attendance, parking, and meal requests, and you will then be directed to a secure web site to provide payment information (coming soon!). Everyone who wants to attend MUST register to ensure that the proper accommodations are in place.
Please note: The registration fee for this year's Galaxy Workshop will be $100. This fee, along with UC-HiPACC's financial support, will cover the costs of the welcome banquet as well as lunch, morning and afternoon refreshments for five days. The Galaxy Workshop banquet will be Monday night August 12.
2nd AGORA Workshop
Visit the AGORA Project website: http://www.agorasimulations.org/
The 2nd Workshop of the AGORA Project will be August 16-19, 2013. On Aug.16 (Fri) the AGORA Workshop and our own Galaxy Workshop will hold joint sessions. If you are interested in participating in the 2nd AGORA Workshop or the Project in general, please visit here