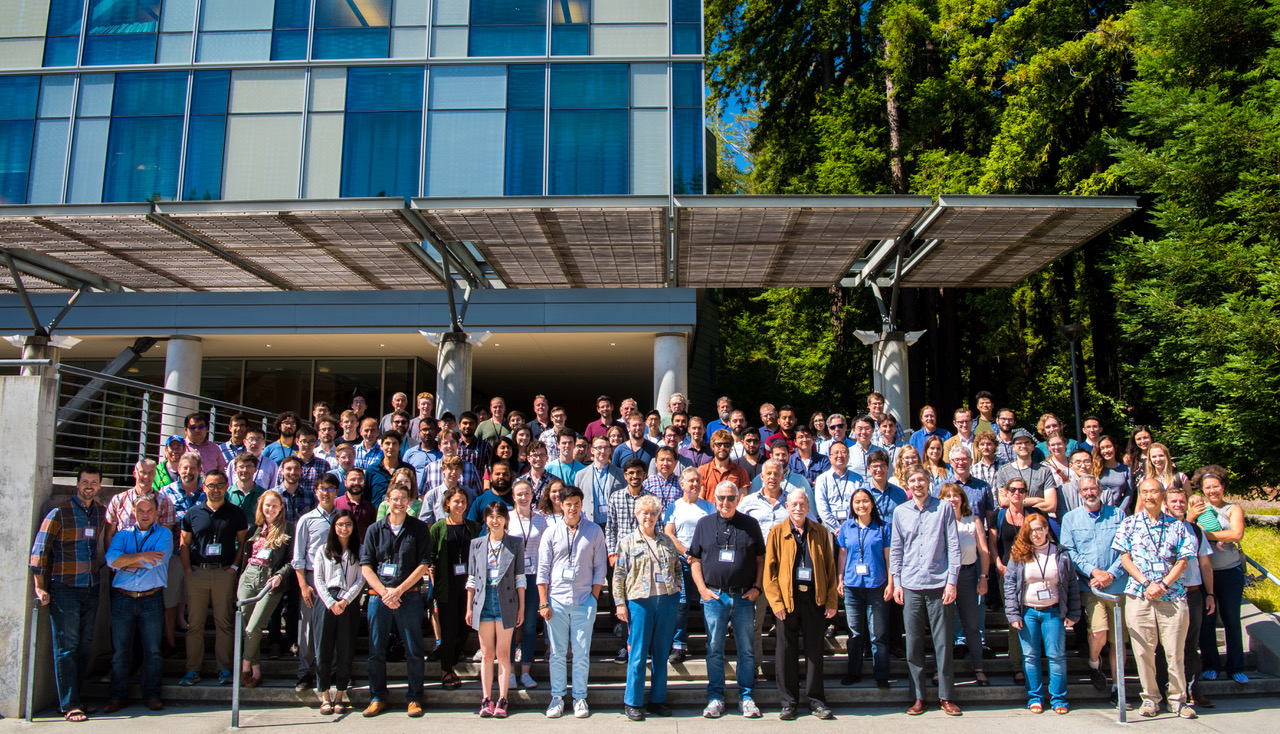 2019 Galaxy Workshop Participants. Click for high-res version (13MB). Credit: Stéphane Courteau
Welcome! Bienvenido!
Welcome to the 2022 Santa Cruz Galaxy Workshop homepage!
This year the workshop will be smaller than in recent pre-Covid years, including a limited number of participants, fewer and less formal talks, and more collaborative interactions. The workshop will be spread over three weeks, August 8-26. The more intense part will take place during August 15-19 and 22-24, consisting of a mix of talks and informal interaction.
The other portion, during August 8-12 and 24-26, will be less structured, with fewer talks and more informal interaction.

LOC: Colin DeGraf, Avishai Dekel, Joel Primack (chair); Margaret Wuerth, Laura Bakken (staff)
SOC: Colin DeGraf, Avishai Dekel (chair), Sandy Faber, David Koo, Joel Primack, Brant Robertson
Click here to visit the 2019 Santa Cruz Galaxy Workshop Website.
Housing
No housing will be available on campus this summer. We recommend that if you plan to attend the conference, you arrange for lodging early. Although hotel policies vary, at the time you make your reservations you should ask if there is a UCSC rate.
Airport shuttles
Shuttle services from the airport to campus or to your lodging are available for a fee:

Public transport
Public transportation options to, from, and around Santa Cruz can be done through the Santa Cruz Metro.
---
Although hotel policies vary, at the time you make your reservations you should ask if there is a discounted UCSC rate.

If you will be staying an additional week for collaboration, either before or after the workshop, you may want to try the following suggestions for a bit longer term and possibly less expensive housing:

In addition we have a listing from Academic HR, which contains many housing options for extended stays, typically in faculty/UCSC employee houses. This list is available upon request.
---
---
Contact
Avishai Dekel (avishai.dekel@mail.huji.ac.il)
Joel Primack (joel@ucsc.edu)
Colin DeGraf (cdegraf@truman.edu)

Hello workshop participants,
The Galaxy Workshop is fast approaching! This year's workshop will take place from August 8-26, and will consist of a combination of talks and time for collaborative discussion/interaction. After the second week of the workshop, there will be an AGORA project workshop, taking place on Saturday, August 20th. If you are interested in attending the AGORA workshop or would like further details, please see the AGORA website (www.agorasimulations.org) or contact the AGORA Project Coordinator (santacruzgalaxy@gmail.com).
Questionnaire/Registration
Registration/payment form will be available soon.
10th AGORA Workshop
AGORA is an international collaboration to run and compare high-resolution hydrodynamic zoom-in galaxy simulations. Visit the AGORA Project website: http://www.agorasimulations.org/.
Following the Galaxy Workshop, on Saturday, August 20th there will be an AGORA project workshop. Information can be found on the AGORA Workshop website.

If you are interested in attending or would like further details, please contact the AGORA Project Coordinator (santacruzgalaxy@gmail.com)

Contact Us
If you have any questions regarding the workshop, please contact the organizers:

Avishai Dekel (avishai.dekel@mail.huji.ac.il)
Joel Primack (joel@ucsc.edu)
Colin DeGraf (cdegraf@truman.edu)

For questions regarding the associated AGORA Project, please contact the AGORA Project Coordinator:
(santacruzgalaxy@gmail.com)