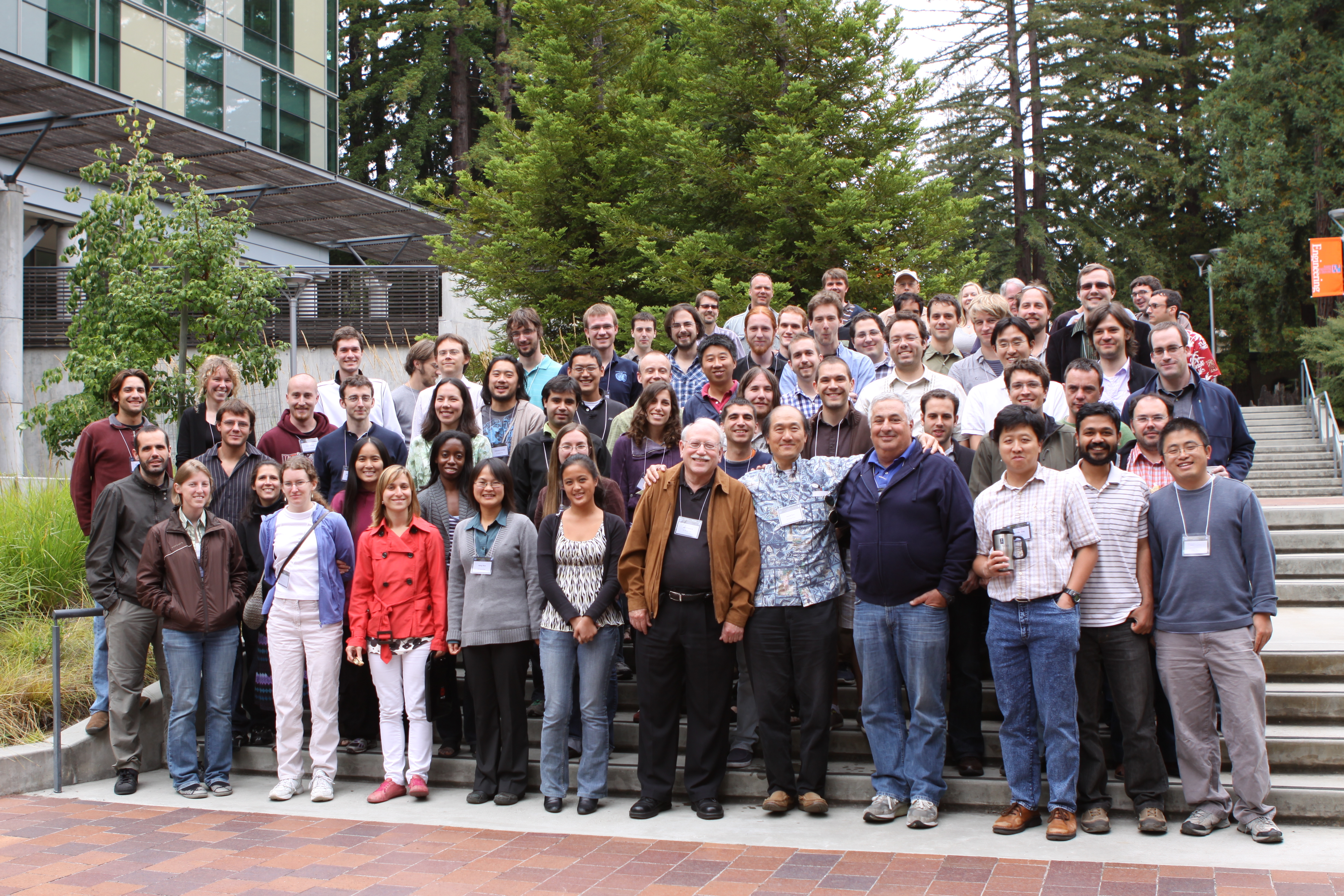 2011 Galaxy Workshop Participants. Image credit: Trudy E. Bell
Welcome to the 2011 Santa Cruz Galaxy Workshop homepage!
Organizers: Avishai Dekel and Joel Primack.
Announcements:
• Important arrival information: Those arriving to the Galaxy Workshop later than the
first day (Monday, 8/8) must visit the kiosk at
the base of campus to pick up your permits.
Please park at the West Core Parking Structure. Other workshop materials will be given to you during the coffee breaks.
•Lunches: Those who ordered lunches vouchers can pick them up outside the Simularium during
the morning coffee breaks. We'd like to remind those of you who did not purchase lunches in advance to bring your own lunches. As we explained in several emails, there will be no nearby places at UCSC serving lunch during the week.
Participants
Please proceed to the "Registration & Participant Questionnaire" tab to submit your talk titles and dates of attendance .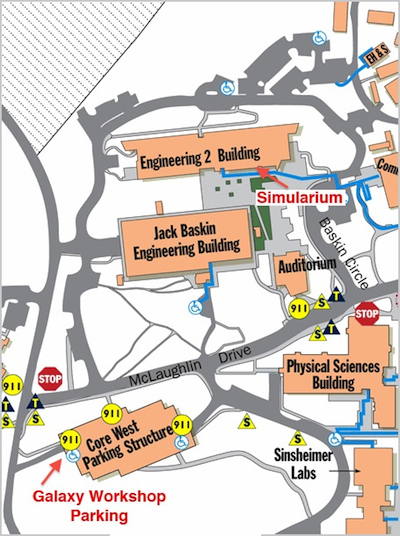 Directions
This year, the workshop will be held in the Simularium, located in room 180 of the Engineering 2 (E2) Building in the northwest corner of UCSC, on Science Hill.
After entering the main UCSC entrance, continue straight on Coolidge Drive. Turn left on Hagar Drive, which is the second light after the main entrance. At the end of Hagar Drive, turn left onto McLaughlin Drive. At the end of McLaughlin Drive, turn left onto Heller Drive and then immediately left again into the multi-level parking garage called Core West Parking Structure, which is the closest parking to Baskin Engineering.
You can also get door-to-door directions from Google Maps.
Within the parking structure, a permit is required to park in the reserved spaces. Visitors can get an A-level parking permit from kiosk at UCSC's main entrance. Limited metered spaces on the 2nd floor are provided for cars that do not have a parking permit.
A complete UCSC campus map is available, as is a web site dedicated to UCSC maps.
Directions to University of California Santa Cruz http://maps.ucsc.edu/cmdirections.html are also available from:
Parking
All Galaxy Workshop parking should be done at the West Core Parking Structure (see map above). On Aug. 8th, the first day of the workshop, the HIPACC Administrative Assistant will have a booth within the Core West Parking Structure to hand out previously purchased permits as well as other important workshop materials. You must visit this booth if coming the first day, which will have signs pointing to it and will be very visible, in order to get your permits, lunch vouchers and anything else you purchased during registration. You may also purchase permits at this booth with cash or check. (They cost $6/ permit). The booth will be there to greet participants the first day and hand out important workshop materials, including purchased permits, name tags, maps, a program and more. The booth will be up from 8:30 am to 10am.
If you are arriving for the Galaxy Workshop later than the first day, for example you're coming Wednesday until Friday, you must visit the kiosk at the base of campus to pick up your permits. Please park at the West Core Parking Structure. Other workshop materials will be given to you during coffee break.

Airport shuttles
Shuttle services from the airport to campus or to your lodging are available for a fee:

Public transport
Public transportation options to, from, and around Santa Cruz can be found at I Ride the Bus.
---
You may visit the Business Contracts website to check for current Agreements. Please note that there are no active Agreements with any local lodging vendors at this time.
The Mission Inn has agreed to honor the old rate of $80.00/single and $90.00/double for this Summer's Galaxy Workshop only. The rooms are first come first serve, as they cannot be "reserved" without a UC Trip ID # or a personal credit card. However, per previous conversations, the Mission Inn has availability during the workshop dates, and is aware of the dates of the workshop. If travelers provide the number, UCSC/FET-121307, and confirm that they are attending the UCSC/SCIPP/UC-HIPACC Galaxy Workshop, they will receive the lower rates.
Once the Mission Inn no longer has rooms available, the following local lodging vendors are suggested:

If you will be staying an additional week for collaboration, either before or after the workshop, you may want to try the following suggestions for a bit longer term and possibly less expensive housing:
Craig's List
Craig's List shows housing for rent in many areas- just select the Santa Cruz locations from the following Monterey Bay Area list
In addition we have a listing from Academic HR, which contains many housing options for extended stays, typically in faculty/UCSC employee houses. This list is available upon request.
For questions about accommodation contact UC-HIPACC staff "hipacc@ucsc.edu"
---
Funding

UC-HIPACC (University of California High Performance AstroComputing Center) is co-sponsoring the 2011 Galaxy Formation Workshop.
UC-HIPACC's major purpose is to encourage collaboration on computational astrophysics between groups at UC campuses and DOE Labs. We are willing to help with lodging support for those UC students interested in attending the Galaxy Formation Workshop. If you are interested in UCSC housing support please send an email UC-HIPACC staff, "hipacc@ucsc.edu"
---
---
Contact
Avishai Dekel (dekel[at]phys.huji.ac.il)
Joel Primack (joel[at]@ucsc.edu)
Nina McCurdy (nmccurdy@ucsc.edu)
UC-HIPACC staff (hipacc@ucsc.edu)
Shakespeare Santa Cruz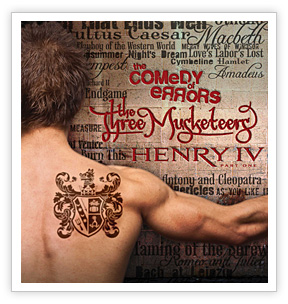 UC Santa Cruz is home to one of America's great Shakespeare Festivals, which coincides with our Galaxy Workshop. For the past few years a highlight of our workshop has been an evening together at a Shakespeare play, and we will go to Henry IV part 1 on Aug. 11 at 7:30 PM. If you have not yet reserved tickets with Nancy Abrams, the time to get group discount tickets is closed, but if you would still like to go, you can still buy tickets online at shakespearesantacruz.org
Two other great productions are going on in repertory with Henry IV, in case you want to see them all: Shakespeare's Comedy of Errors, and the modern play The Three Musketeers. To find out more about all the plays, visit http://shakespearesantacruz.org