HiPACC Education/Public Outreach Press Room. From: UCSF
The Education/Public Outreach Press Room highlights opportunities made available to K-12 or university students or the general public, to learn more about astronomy and computational or data science in all fields, offered by the UC campuses and DOE laboratories comprising the UC-HiPACC consortium. The wording of the short summaries on this page is based on wording in the individual releases or on the summaries on the press release page of the original source. Images are also from the original sources except as stated. Press releases below appear in reverse chronological order (most recent first); they can also be displayed by UC campus or DOE lab by clicking on the desired venue at the bottom of the left-hand column.
October 6, 2014 — UCSF at Dreamforce 2014: Revolutionary research powered by technology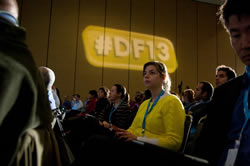 Attendees of Dreamforce 2013 listen to UCSF experts discuss how technology is changing health care.
UCSF 10/6/2014—A chip can solve cases of mysterious infectious diseases by applying innovative, rapid DNA sequencing technology. New genomic techniques are aiding in identifying genes that contribute to autism and other disorders. Video games designed with neuroscience can actually make you smarter. Prenatal exposure to industrial chemicals—found in food, water, consumer products, and the environment—can have intergenerational adverse health impacts. These are some of the revolutionary research discoveries and inventions that UC San Francisco scientists explore at noon on October 15, at Dreamforce 2014's "Stepping Up to Lead" track.