HiPACC Education/Public Outreach Press Room. From: UCSC
The Education/Public Outreach Press Room highlights opportunities made available to K-12 or university students or the general public, to learn more about astronomy and computational or data science in all fields, offered by the UC campuses and DOE laboratories comprising the UC-HiPACC consortium. The wording of the short summaries on this page is based on wording in the individual releases or on the summaries on the press release page of the original source. Images are also from the original sources except as stated. Press releases below appear in reverse chronological order (most recent first); they can also be displayed by UC campus or DOE lab by clicking on the desired venue at the bottom of the left-hand column.
October 31, 2014 — From smart grids to flying robots, engineer finds many applications for theory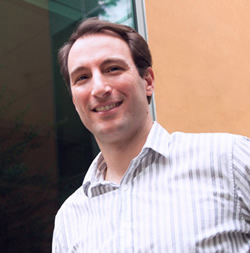 Ricardo Sanfelice. Credit: C. Lagattuta
UCSC 10/31/2014—Essential for the future of electricity is a "smart" grid, in which the energy distribution system is fully computerized, with sensors and wireless devices monitoring remote parts of the system and communicating with a central operations center. According to Ricardo Sanfelice, associate professor of computer engineering at UC Santa Cruz, automated technology can then adjust and control the components of the grid to improve its efficiency and manage the integration of renewable energy sources. The intermittency inherent in renewable energy sources such as wind and solar power poses a challenge for electric companies, which must provide a consistent power supply. Because smart grid technology could help meet this challenge, Sanfelice and his students are developing and testing theories about how to control the flow of electricity through a smart grid.

October 22, 2014 — Astrophysics meets theater in 'Birth of Stars'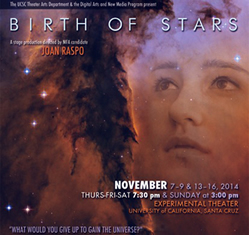 UCSC 10/22/2014—What does the birth and death of stars have to do with the lives of real human beings? How do we balance the joy and pain of life in a productive way? Does technology make us less than human…or something more? These mega questions are themes running through Birth of Stars, an original new play melding scientific data, digital projections, and a human story to explore the parallel between the lives of stars and the people who gaze up at them. Running November 7-16, it was a co-production of the Theater Arts Department and the Digital Arts and New Media Program (DANM) at UC Santa Cruz. The event was created by a research team of scholars, students, and artists led by Michael Chemers, director of DANM, Mark Krumholz, professor of astronomy and astrophysics, and Jim Bierman, professor of theater arts. The play combines live action with digital effects, including projections of simulations of stars forming in space. There is also a an interactive online component where the audience can learn about the science behind the play, plus get a behind-the-scenes look at the artistic process of creating.

October 8, 2014 — Institute of Arts and Sciences offers LASER talk on Oct. 28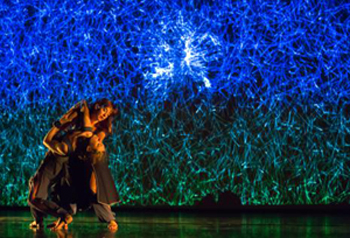 danceroom spectroscopy. Credit: David Glowacki
UCSC 10/8/2014—UC Santa Cruz's Institute of the Arts and Sciences will present its first Leonardo Art/Science Evening Rendezvous (LASER) talk of the 2014–2015 academic year on Tuesday, October 28, at the Digital Arts Research Center. LASER is a national program of evening gatherings that bring artists, scientists, and scholars together for informal presentations and conversations. The goal of the LASER series is to feature compelling new developments in the arts and sciences, and to attract audiences that would not normally be found at the same gathering. Among the presentations will be one by David Glowacki, whose international reputation spans both computational nano-physics and interactive digital art. He is the creator of danceroom spectroscopy, an interactive science-meets-art installation that has introduced the beauty and complexity of the atomic world to thousands of people across the UK and Europe.

September 22, 2014 — Mixing it up on Science Hill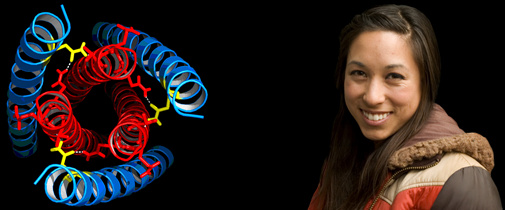 Rachel Doran, a 4th year graduate student, is investigating the immune responses of people infected with HIV who do not succumb to normal progression of disease to learn how their antibody responses make them resistant to AIDS. Graphic credit: David States
UCSC 9/22/2014—An innovative graduate program on UC Santa Cruz's Science Hill is breaking down barriers between the biomedical sciences, encouraging interdisciplinary research, and enabling students from different departments and divisions to work closely together. Now in its sixth year, the graduate Program in Biomedical Sciences and Engineering (PBSE) is a collaborative graduate program that includes faculty from five departments spanning the Divisions of Physical and Biological Sciences and the Baskin School of Engineering. Originally, individual departments had their own graduate programs based on traditional disciplines, but research has evolved to a point where students now employ techniques and logic from multiple disciplines to attack interesting problems in biomedical research. So UCSC felt the need for a graduate program that reflects the collaborative and interdisciplinary nature of biomedical research at UCSC. In the past half-dozen years, PBSE has helped change the culture of Science Hill as well as the kind of student who is coming to UC Santa Cruz to study biomedical sciences. PBSE attracts students who are broad in their thinking, who think independently, who can make their own programs.

June 26, 2014 — UCSC graduate student is a new kind of storyteller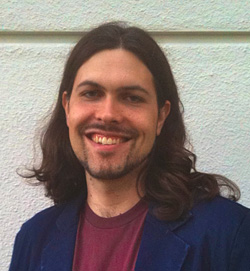 Aaron A. Reed
UCSC 6/26/14—Aaron A. Reed is a storyteller for whom writing involves both words and computer code. Currently working toward his Ph.D. in computer science at UC Santa Cruz, Reed is already a prominent author in the world of interactive fiction, merging literary storytelling techniques with the technology of computer games. Reed came to UCSC in 2009 for the Digital Arts and New Media program, earning his M.F.A. in 2011. His initial exploration of new ways of storytelling through games had two goals: to involve the reader in the outcome of the story and to develop an interactive story in a way that didn't require a Ph.D. in computer science. Eventually, however, he decided that advanced work in computer science would give him the best tools to address some of the storytelling challenges he was facing as a writer. So he moved on to UCSC's computer science graduate program, working with faculty in the Expressive Intelligence Studio at the Center for Games and Playable Media. Reed's games experiment with different approaches to interactive storytelling, and the experiments are paying off. One recent project, 18 Cadence, has earned accolades from both the literary community and experimental game developers.

May 7, 2014 — Cosmologist Tom Abel explores the early universe in public lecture May 27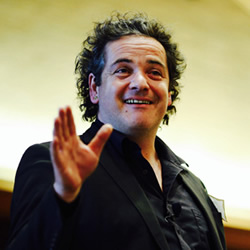 Tom Abel
UCSC 5/7/14 — Cosmologist Tom Abel discussed the early history of the universe in the inaugural public Mandel Lecture called "Cosmic Dawn: The First Billion Years of our Universe." Abel is a computational cosmologist who explores cosmic history using supercomputer calculations. An associate professor of physics at Stanford University and the Stanford Linear Accelerator Center, he directs the Kavli Institute for Particle Astrophysics and Cosmology at Stanford. In his talk, Abel took the audience on a fascinating journey through the early universe using the latest computer animations of early star formation, supernova explosions, and the build-up of the first galaxies. Computer simulations of these events combine the physics of dark matter and the ordinary matter of atoms and molecules, the expansion of the universe, chemistry, and gas dynamics to deliver remarkable insights into the early history of the cosmos. Abel's long-term goal is "to build a galaxy, one star at a time" via computer modeling.

April 16, 2014 — UCSC grad students to showcase digital art with social impact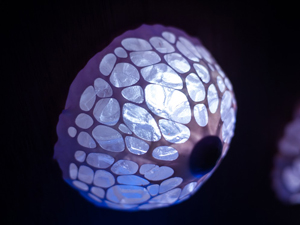 Gene A. Felice II worked with OpenLab and DANM's Mechatronics Research Group to develop his Oceanic Scales project.
UCSC 4/16/14 - Eleven graduate students from the Digital Arts and New Media M.F.A. Program (DANM) at UC Santa Cruz will conclude two years of artistic study with "Undercurrents"—an exhibition running on campus April 26 through May 4 at the Digital Arts Research Center. This year's students have particular concerns about the environment and sustainability. Curated by Shelby Graham, the featured works range from interactive ecological installations to site specific projections, all employing advanced technologies to explore the edges of contemporary new media art.

March 31, 2014 — Music and stargazing draw summer visitors to Lick Observatory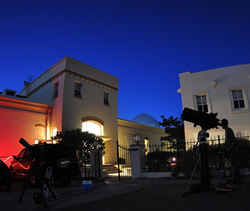 Stargazers gather at Lick Observatory for Music of the Spheres concerts and other summer programs. (Photo by Michael Bolte)
UCSC 3/31/14 — For more than three decades, the summer programs at UC's Lick Observatory have drawn music lovers and astronomy buffs to the top of Mt. Hamilton for concerts, lectures, and opportunities to view the night sky through the observatory's history-making telescopes. This summer will be the 34th season of these popular evening programs. Music of the Spheres is a benefit summer concert series whose proceeds support Lick Observatory. Each of the four Music of the Spheres evenings combines a performance by world-acclaimed musicians and a lecture by a renowned astronomy researcher. Afterward, audience members take turns looking through the historic telescopes: the 36-inch Great Lick Refractor and the 40-inch Nickel Reflector. Volunteers also share their own telescopes and expertise with interested members of the audience.

March 26, 2014 — UCSC students will code for Santa Cruz in April 5-6 'hackathon'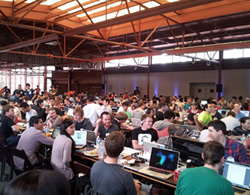 Launch Hack 2013 in San Francisco. (Photo by Mark Adams)
UCSC 3/26/14 — The first UC Santa Cruz "hackathon" will take place on the weekend of April 5 and 6 at the Oakes Learning Center, bringing together student developers, designers, and entrepreneurs to produce mobile apps and web programs in a 32-hour competition. Organized by the UCSC Center for Entrepreneurship, HACK UCSC 2014 is supported by the Santa Cruz tech community, which has donated $10,000 in prize money to be shared by the top four teams. The theme of the event is "Santa Cruz." The apps and programs developed by student teams will be scored on their relevance to the Santa Cruz community, technical merit, and novelty. Industry veterans from the tech community have volunteered to serve as mentors for the student teams.