HiPACC Education/Public Outreach Press Room. From: UCB
The Education/Public Outreach Press Room highlights opportunities made available to K-12 or university students or the general public, to learn more about astronomy and computational or data science in all fields, offered by the UC campuses and DOE laboratories comprising the UC-HiPACC consortium. The wording of the short summaries on this page is based on wording in the individual releases or on the summaries on the press release page of the original source. Images are also from the original sources except as stated. Press releases below appear in reverse chronological order (most recent first); they can also be displayed by UC campus or DOE lab by clicking on the desired venue at the bottom of the left-hand column.
October 7, 2014 — Photo slideshow: Student inventors do battle at CalHacks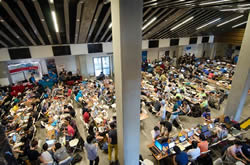 College and high-school students, more than 1,000 strong, converge on Memorial Stadium to build hardware and software at CalHacks. Credit: Kevin Ho Nguyen
UCB 10/7/2014—More than 1,000 inventive students from across the country inhabited California Memorial Stadium this weekend as they sought glory, prize money and the sheer thrill of solving problems together in a 36-hour tech event, Cal Hacks. Check out the action in this slide show.

August 27, 2014 — 'HackTheHearst' to expand public discovery of ancient treasures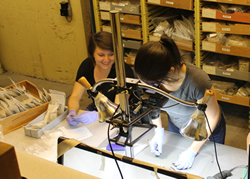 Students working to digitize a large set of Hearst Museum artifacts. Credit: Phoebe A. Hearst Museum of Anthropology
UCB 8/27/2014—A multiday hackathon beginning Sept. 10 aims to make the collection of ancient treasures at the Phoebe A. Hearst Museum of Anthropology at UC Berkeley more accessible to scholars and the public. The competition is open to anyone: Silicon Valley computer programmers, high school students, architects, designers, museum studies students, and more. HackTheHearst participants will work with a dataset of object-centric metadata for more than 700,000 catalog records dealing with everything from Mexican Saltillo serapes and ancient Egyptian artwork to Native American basketry. Some 196,920 objects in the museum's collections have been digitally imaged so far. Museum officials are asking hackers to develop apps or user interfaces that facilitate interaction with digitized collection data by the public, especially students from kindergarten through college, researchers, Indian tribes and other heritage communities. Hackers also can attend a discussion about museums and their role in the humanities, digital tools, and resources—an area of research, teaching, and creation that is concerned with the intersection of computing and the humanities disciplines.

August 8, 2014 — Berkeley Engineering launches Girls in Engineering summer camp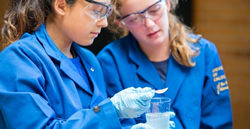 UCB 8/8/2014—Summer 2014, Berkeley Engineering hosted 60 fifth, sixth and seventh-graders for a new Girls in Engineering camp designed to inspire middle-schoolers to explore careers in STEM fields (science, technology, engineering, and math). Part of the college's longstanding commitment to increasing the ranks of women in technology, the camps were offered free to students from five East Bay schools. Supported by grants from the National Science Foundation, General Electric, and the Baskin Foundation, two weeklong sessions included hands-on projects in nanotechnology, robotics, optics and more, as well as field trips to nearby Pixar Animation Studios and Lawrence Hall of Science.

June 19, 2014 — RadWatch project brings near real-time radiation data to the public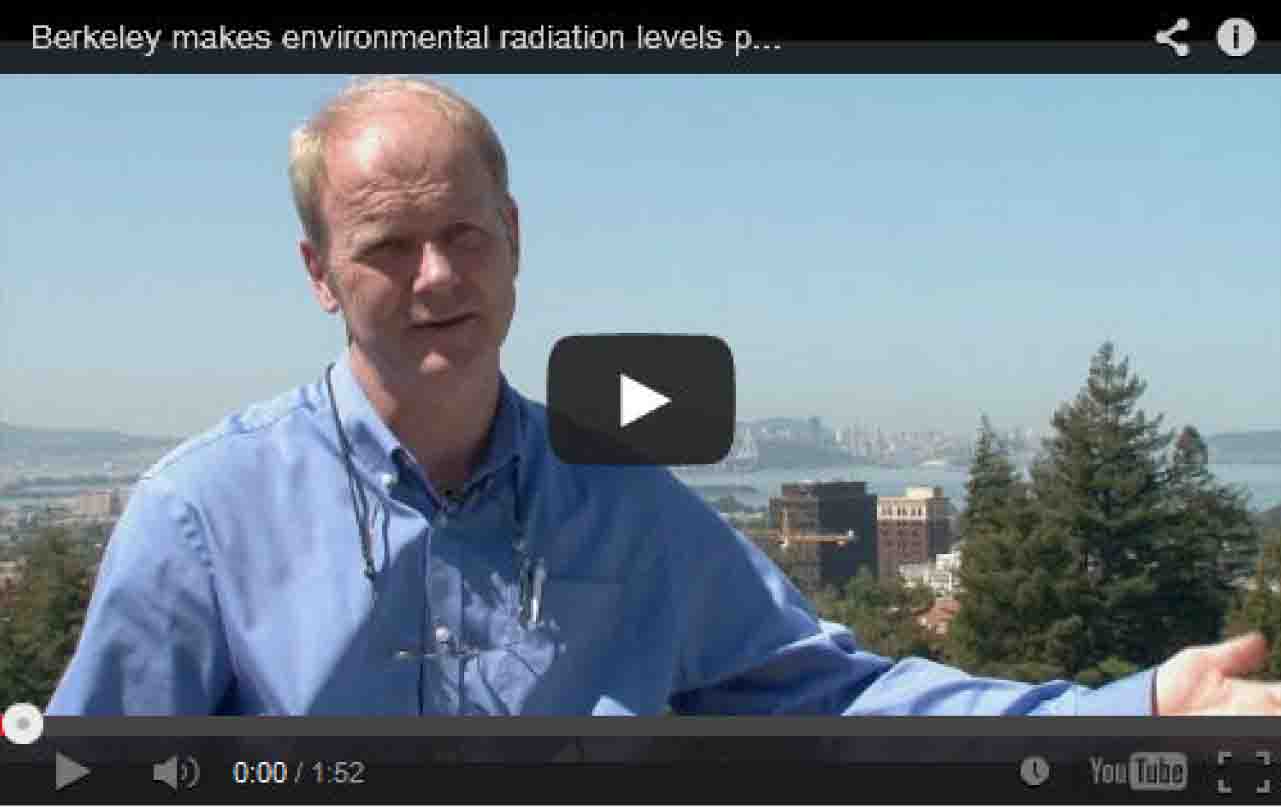 Video by Roxanne Makasdjian and Phil Ebiner, UC Berkeley
UCB 6/19/14—Radioactivity is all around us, and UC Berkeley researchers want the public to know it. A team of scientists led by Kai Vetter, UC Berkeley professor-in-residence of nuclear engineering, seeks to provide online access to a wealth of information on environmental radiation levels to help demystify an often misunderstood subject. Called RadWatch, the project presents results of radiation testing from a wide range of samples, such as California fish, soil, and cows' milk. The latest development is the installation of a new automated air-sampling system, posting a constant stream of data from highly sensitive air monitors online for the public to see. RadWatch currently focuses on cesium-134 and cesium-137, the primary radioisotopes associated with Japan's devastated Fukushima nuclear plant, to distinguish releases from the facility's March 2011 meltdown and fallout from nuclear weapons testing from the 1940s and '50s—something simple Geiger counters cannot do. "The RadWatch project is a great example of how UC Berkeley combines research with student training and public education," said Vetter, who is also head of the Applied Nuclear Physics Program at Lawrence Berkeley National Laboratory.

January 23, 2014 — Data science master's degree kicks off to fill growing need across industries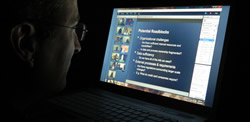 MIDS students participate in live, face-to-face classes with fellow students and professors online.
UCB 1/23/14 — The UC Berkeley School of Information has officially started the first semester of its new Master of Information and Data Science (MIDS) program. Delivered online, the MIDS program provides a multi-disciplinary curriculum that prepares students in any career to solve real-world problems across their organizations using complex and unstructured data.