HiPACC Education/Public Outreach Press Room. From: UCSD
The Education/Public Outreach Press Room highlights opportunities made available to K-12 or university students or the general public, to learn more about astronomy and computational or data science in all fields, offered by the UC campuses and DOE laboratories comprising the UC-HiPACC consortium. The wording of the short summaries on this page is based on wording in the individual releases or on the summaries on the press release page of the original source. Images are also from the original sources except as stated. Press releases below appear in reverse chronological order (most recent first); they can also be displayed by UC campus or DOE lab by clicking on the desired venue at the bottom of the left-hand column.
September 9, 2014 — Computer scientists launch Kickstarter for video game that teaches kids how to code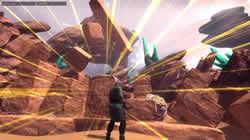 Screen shot from CodeSpells
UCSD 9/10/2014—Computer scientists at UC San Diego (UCSD) have successfully funded on Kickstarter a new and improved version of CodeSpells, a first-person player game they developed that teaches players how to code. The game's previous iteration, developed by UCSD computer science Ph.D. students Sarah Esper and Stephen Foster, has been in use in dozens of schools throughout the world for more than a year. The researchers have been using the game as a platform to learn about the best ways to teach children how to code. In a paper "CodeSpells: Bridging Educational Language Features with Industry-Standard Languages," the researchers demonstrate that after playing CodeSpells for either four hours over four weeks or 10 hours over seven days, children ages 8 to 12 were able to write code by hand in Java.