HiPACC Education/Public Outreach Press Room. From: SDSC
The Education/Public Outreach Press Room highlights opportunities made available to K-12 or university students or the general public, to learn more about astronomy and computational or data science in all fields, offered by the UC campuses and DOE laboratories comprising the UC-HiPACC consortium. The wording of the short summaries on this page is based on wording in the individual releases or on the summaries on the press release page of the original source. Images are also from the original sources except as stated. Press releases below appear in reverse chronological order (most recent first); they can also be displayed by UC campus or DOE lab by clicking on the desired venue at the bottom of the left-hand column.
June 27, 2014 — Making computational science super cool!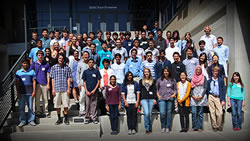 SDSC starts 2014 summer internship program for high school students
SDSC 6/27/2014—The San Diego Supercomputer Center (SDSC) at UC San Diego held its fifth annual Research Experience for High School Students (REHS) summer program, where students join multidisciplinary research teams and staffers at the Center to gain experience across a wide array of computational research. Expanded to eight weeks, the REHS program ran through August 15. Internships of 15 to 25 hours a week are coordinated with SDSC Principal Investigators and other staffers serving as mentors in the program. Interns work with SDSC researchers in many fields, including developing molecular dynamics software, advancing drug designs for Parkinson's Disease, understanding and managing large data sets and scientific workflows, working on projects related to predictive analytics, developing reliable network and information technology infrastructures, and learning how to effectively communicate and publicize research projects and their results.

May 6, 2014 — Teen Mentored by UC San Diego professors wins $250,000 in science prizes
Eric Chen and UC San Diego Professor Rommie Amaro. Credit: Erik Jepsen UC San Diego Publications
SDSC 5/6/14 — A 17-year-old senior at Canyon Crest Academy in San Diego's North County recently won not one, but three major science competitions after being mentored by two University of California, San Diego professors in a project that combined supercomputer modeling with experimental research to speed up the discovery of influenza virus inhibitors. In all, Eric Chen was awarded $250,000 in prize money within the past 12 months by winning the trifecta of science competitions: the 2014 Intel Science Talent Search; the 2013 Siemens Competition in Math, Science & Technology; and the grand prize in the international 2013 Google Science Fair. Chen's computations—using SDSC's Gordon supercomputer—ran molecular dynamics computations as part of the BioChemCoRe outreach program organized by Rommie Amaro, an associate professor of chemistry and biochemistry at UC San Diego.

February 4, 2014 — SDSC's 2014 Series of Data Mining 'Boot Camps' Begins February 26–27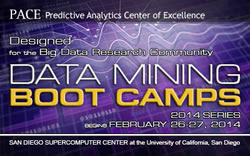 SDSC 2/4/14 — The San Diego Supercomputer Center (SDSC) at UC San Diego is kicking off its 2014 series of "Data Mining Boot Camps" aimed at helping business professionals and academic research scientists gain a clear understanding of how to rapidly translate the burgeoning amounts of data and learn how to design, build, verify and evaluate predictive models.