HiPACC Press Room - UCSC
April 29, 2013 -Astrophysics internships bring community college students to UCSC
Enrico Ramirez-Ruiz
Funded by the National Science Foundation, an expanded new Lamat Summer Research Program on High-Performance Computing in Astrophysics trains regional talented community college students in a broad array of valuable scientific skills.
view full UCSC Press Release
April 18, 2013 -Distant blazar is a high-energy astrophysics puzzle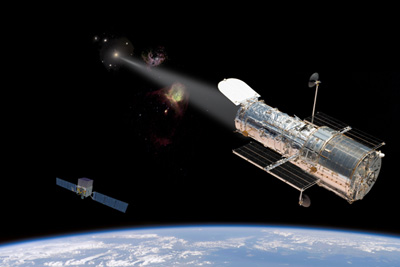 Artist's concept of the Hubble Space Telescope viewing ultraviolet light from the jet of the active galactic nucleus of PKS 1424+240. Clouds of hydrogen gas along the line of sight absorb the light at known frequencies, allowing the redshift and distance of each cloud to be determined.
Blazars are the brightest of active galactic nuclei. Blazar PKS 1424+240 is the most distant known source of very high-energy gamma rays, but a team of astronomers (including ones from UC Santa Cruz and Berkeley) observe that its emission spectrum is highly unusual—perhaps indicating something new about the emission mechanisms of blazars, the extragalactic background light, or the propagation of gamma ray photons over vast distances.
view full UCSC Press Release
March 27, 2013 -UCSC and industry partners launch center for data storage research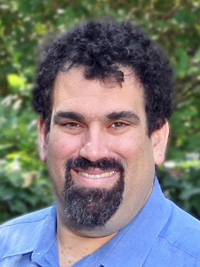 Ethan Miller, director of the Center for Research in Storage Systems at UCSC
Researchers in the Baskin School of Engineering at UC Santa Cruz are partnering with leaders in the data storage industry to establish the Center for Research in Storage Systems (CRSS), a new Industry/University Cooperative Research Center supported by the National Science Foundation (NSF), to address the growing challenges of storing and managing massive amounts of electronic data. CRSS will conduct research in storage systems to enable not only the construction of large-scale data centers, but also the development of tools to manage the vast amounts of data necessary to make exascale computing a reality.
view full UCSC Press Release
February 21, 2013 -Stellar motions in outer halo shed new light on Milky Way evolution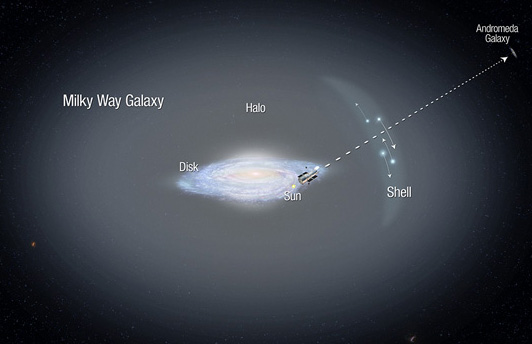 This illustration shows the disk of our Milky Way galaxy surrounded by a faint, extended halo of old stars. Astronomers using the Hubble Space Telescope to observe the nearby Andromeda galaxy identified a dozen foreground stars in the Milky Way halo and measured their sideways motions. Illustration Credit: NASA, ESA, and A. Feild (STScI)
Peering deep into the vast stellar halo that envelops our Milky Way galaxy, astronomers have uncovered tantalizing evidence for the possible existence of a shell of stars that is a relic of the Milky Way's past cannibalism of other galaxies. Led by Alis Deason at UC Santa Cruz and published in the March 4 issue of The Astrophysical Journal, the team used data from the Hubble Space Telescope archives and from the Sloan Digital Sky Survey to measure precisely, for the first time ever, the sideways (tangential) motions of a small sample of stars located far from the Milky Way's center. Their unusual lateral motion is circumstantial evidence that the stars may be the remnants of a shredded galaxy that was gravitationally ripped apart by the Milky Way billions of years ago.
view full UCSC Press Release
January 23, 2013 -Astronomer Mark Krumholz awarded AAS Warner Prize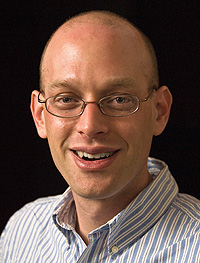 Mark Krumholz, associate professor of astronomy and astrophysics. (Photo by J. MacKenzie)
Krumholz, an associate professor of astronomy and astrophysics, studies the formation of massive stars, the structure and evolution of molecular clouds in space, and processes that regulate star formation in galaxies using a mix of numerical and analytic techniques. The citation accompanying the prize recognizes Krumholz "for major theoretical contributions in the areas of massive star formation and the interstellar medium, both in the galaxy and in the early universe." The Warner Prize is awarded annually for a significant contribution to observational or theoretical astronomy by an early-career scientist.
view full UCSC Press Release
December 18, 2012 -Closest single star like our Sun may have a habitable planet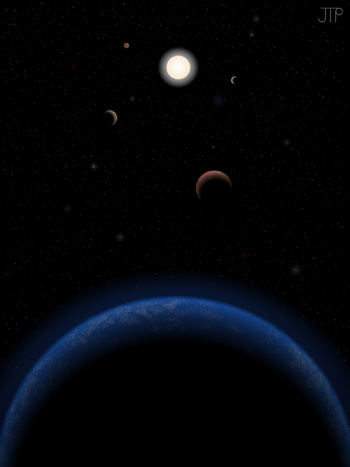 An artist's impression of the Tau Ceti system. (Image by J. Pinfield for the RoPACS network at the University of Hertfordshire, 2012)
By Tim Stephens
An international team of astronomers has discovered that Tau Ceti, one of the closest and most Sun-like stars, may host five planets, including one in the star's habitable zone.
At a distance of twelve light years from Earth and visible to the naked eye in the evening sky, Tau Ceti is the closest single star that has the same spectral classification as our Sun. Its five planets are estimated to have masses between two and six times the mass of the Earth, making it the lowest-mass planetary system yet detected. One of the planets lies in the habitable zone of the star and has a mass around five times that of Earth, making it the smallest planet found to be orbiting in the habitable zone of any Sun-like star.
view full UCSC Press Release
December 17, 2012 -Top physicists gather at UCSC to honor Michael Dine and Howard Haber
Physicists Michael Dine (left) and Howard Haber on the UCSC campus.
Top physicists from around the world will gather at the University of California, Santa Cruz, in January for a symposium in honor of two eminent theoretical physicists on the UCSC faculty: Michael Dine, distinguished professor and chair of the Physics Department, and Howard Haber, professor of physics.
Dine and Haber, who are being honored on the occasion of their 60th birthdays, are both well known for their contributions to the field of theoretical high-energy physics. The symposium, "The Search for Fundamental Physics: Higgs Bosons and Supersymmetry," will take place January 4 to 6, 2013.
view full UCSC Press Release
November 29, 2012 -Physicist Robert Johnson elected Fellow of American Physical Society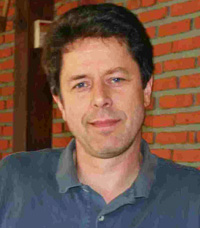 Robert Johnson
By Tim Stephens
Robert Johnson, professor of physics at UC Santa Cruz, has been elected a Fellow of the American Physical Society (APS) in recognition of his exceptional contributions to physics.
Johnson works in the areas of experimental particle physics and high-energy astrophysics and is associate director of the Santa Cruz Institute for Particle Physics (SCIPP). The APS citation recognizes him "for his leadership of the design and implementation of the Fermi Large Area Telescope (LAT) Tracker." The LAT is the primary instrument on NASA's Fermi Gamma-ray Space Telescope. Johnson led a SCIPP team that spent nearly 16 years working on the gamma-ray detecting system for the LAT. Since the launch of Fermi in 2008, his group has been involved in analyzing data from the instrument.
view full UCSC Press Release
October 19, 2012 -Astronomers uncover a surprising trend in galaxy evolution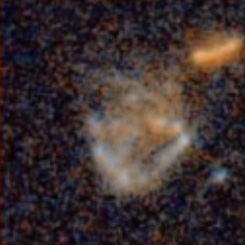 Image credit: NASA/HST
By Tim Stephens
A comprehensive study of hundreds of galaxies observed by the Keck telescopes in Hawaii and NASA's Hubble Space Telescope has revealed an unexpected pattern of change that extends back 8 billion years, or more than half the age of the universe.
"Astronomers thought disk galaxies in the nearby universe had settled into their present form by about 8 billion years ago, with little additional development since," said Susan Kassin, an astronomer at NASA's Goddard Space Flight Center and the study's lead researcher. "The trend we've observed instead shows the opposite, that galaxies were steadily changing over this time period."
view full UCSC Press Release
October 18, 2012 -Violent Origin of Saturn's Oddball Moons Explained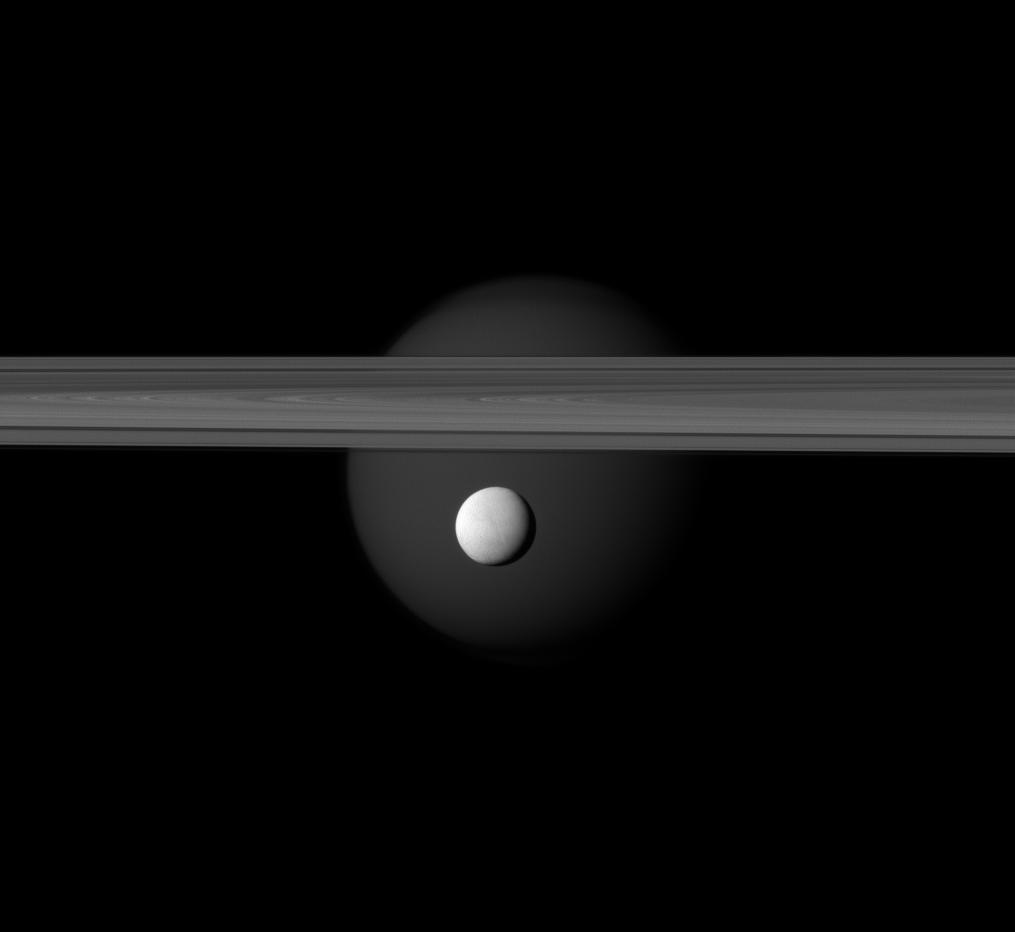 Saturn's icy moon Enceladus hangs below the gas giant's rings while Titan lurks in the background, in this new image taken by the Cassini spacecraft on March 12, 2012. CREDIT: NASA/JPL-Caltech/Space Science Institute
by SPACE.com Staff
Saturn's icy medium-size moons were born when a few much bigger satellites collided to form the ringed planet's huge moon Titan, a new study suggests.
The Saturn system started out with a family of several relatively large moons like the Galilean satellites of Jupiter (Ganymede, Europa, Callisto and Io), according to the new theory. But things changed with a few dramatic moon mergers, which created the Titan we know today and shed enough material to form satellites such as Mimas, Enceladus, Tethys, Dione, Rhea and Iapetus, researchers said.
"We think that the giant planets got their satellites kind of like the sun got its planets, growing like miniature solar systems and ending with a stage of final collisions," lead author Erik Asphaug, of the University of California, Santa Cruz, said in a statement...
view full SPACE.com article
view full UCSC Press Release