HiPACC Press Room - LBNL
September 25, 2013 -Simulating the big bang and beyond
Three of the U.S Department of Energy's (DOE's) National Labs—Fermi National Accelerator Laboratory (Fermilab), Argonne National Laboratory, and Lawrence Berkeley National Laboratory—have announced a partnership to develop a cosmological simulation analysis toolbox. The partnership seeks to take advantage of the DOE's investments in supercomputers and high-performance computing codes, enhancing existing high-performance computing, high-energy physics, and cosmology-specific software systems to handle the large datasets of galaxy-formation simulations. The three labs are developing an open platform, web-based front end that will enable the scientific community to download, transfer, manipulate, search, and record simulation data. Astrophysicists will be able to upload and share applications as well as carry out complex computational analyses.
view full ISGTW Press Release
March 21, 2013 -Planck Mission Updates the Age of the Universe and What it Contains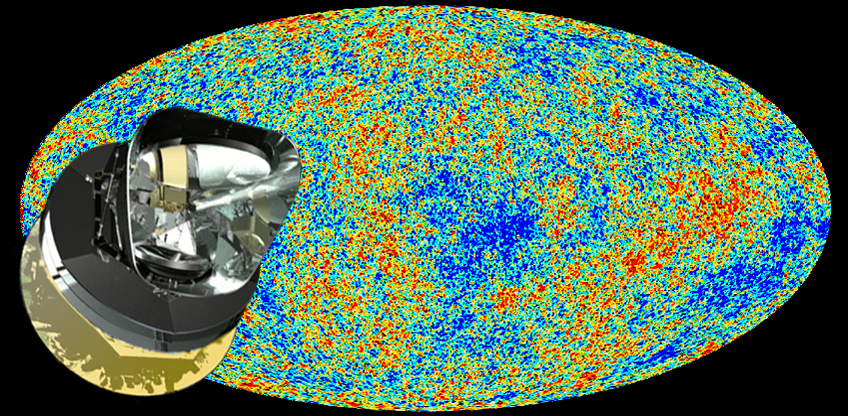 The Planck mission has yielded the most detailed map yet of the cosmic microwave background radiation, from which crucial cosmological parameters have been recalculated.
Crucial contributions to Planck's analysis have also been made by Julian Borrill, the U.S. Planck Team's computational systems architect, who led a Berkeley Lab group in creating the thousands of simulations run at NERSC upon which the accuracy of the analysis depended. Another related story is at
view full LBNL Press Release
March 14, 2013 -Building the Massive Simulation Sets Essential to Planck Results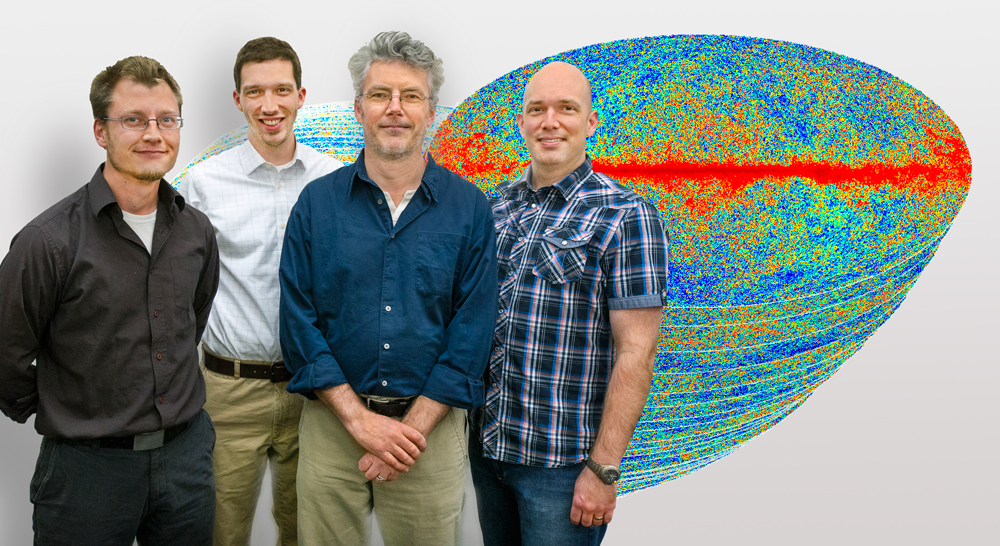 From left, Reijo Keskitalo, Aaron Collier, Julian Borrill, and Ted Kisner of the Computational Cosmology Center with some of the many thousands of simulations for Planck Full Focal Plane 6.
Using NERSC supercomputers, scientists at Berkeley Lab's Computational Cosmology Center generate thousands of simulations to analyze the flood of data from the the European Space Agency's (ESA's) Planck satellite mission, to make the most precise measurement yet of the cosmic microwave background (CMB) – the remnant radiation from the Big Bang.
view full LBNL Press Release
February 20, 2013 -Searching for the Solar System's Chemical Recipe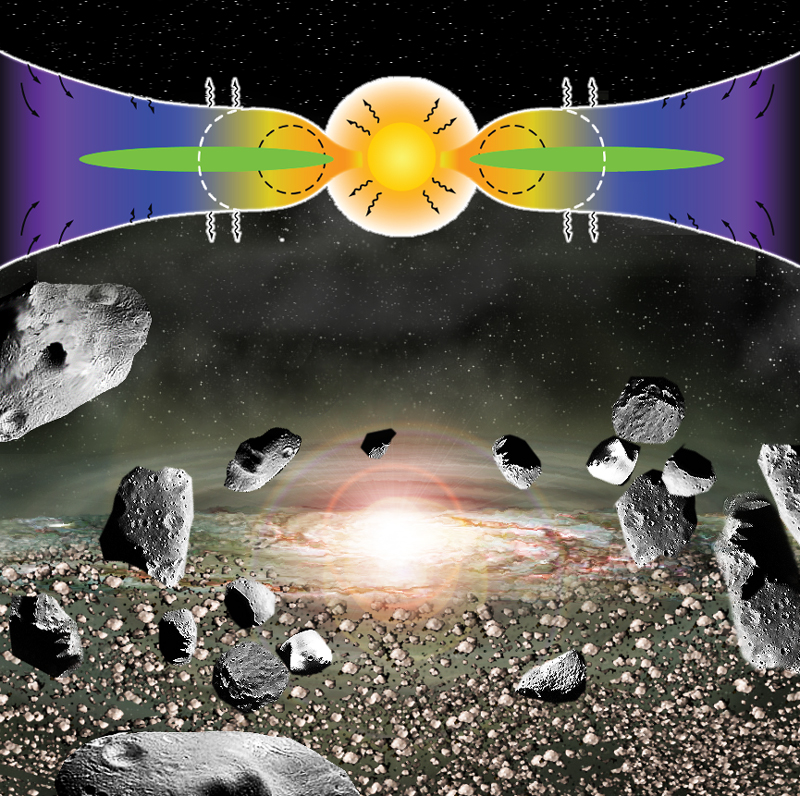 The protosun evolved in a hot nebula of infalling gas and dust that formed an accretion disk (green) of surrounding matter. Visible and ultraviolet light poured from the sun, irradiating abundant clouds of carbon monoxide, hydrogen sulfide, and other chemicals. Temperatures near the sun were hot enough to melt silicates and other minerals, forming the chondrules found in early meteoroids (dashed black circles). Beyond the "snowline" (dashed white curves), water, methane, and other compounds condensed to ice. Numerous chemical reactions contributed to the isotopic ratios seen in relics of the early solar system today.
The ratio of isotopes in elements like oxygen, sulfur, and nitrogen in meteorites, interplanetary dust and gas, and the sun itself differ from isotope ratios on Earth. In a paper published by the Proceedings of the National Academy of Sciences, planetary researchers at UC San Dieto and Lawrence Berkeley National Laboratory describe how they used LBNL's Advanced Light Source to study these "mass-independent" effects to explore their origins in the chemical processes of the early solar system.
view full LBNL Press Release
February 6, 2013 -The Last Big Bump Before a Supernova Explodes

The day the supernova exploded (a) it was surrounded by a shell of matter ejected a month earlier (purple) with a radius of 7,000,000,000 kilometers, moving 2,000 kilometers a second. An outer shell (orange) had been ejected earlier and was moving slower. By day 5 (b) the shock front (black circle) was moving 10,000 kilometers a second, and by day 20 (c) had engulfed the inner shell, exposing the debris of the exploded core. (Sketch adapted from Ofek et al, Palomar Transient Factory)
Astronomers have long suspected that the explosion of a Type II supernova is only the last in a series of smaller blasts that successively blow off much of the core's enveloping matter. Despite many such suggestive clues, no causal proof had previously linked precursor "bumps" in brightness to an actual supernova.
On August 25, 2010, the autonomous machine-learning framework (developed by Josh Bloom of Berkeley Lab's Physics Division and Peter Nugent of the Computational Research Division and their colleagues) was combing through recent data from the Palomar Transient Factory (PTF) and came upon a Type IIn supernova, half a billion light years away in the constellation Hercules. Shortly thereafter, Eran Ofek of Israel's Weizmann Institute of Science led a search of previous PTF scans of the stellar neighborhood and found its likely precursor, a massive variable star that only 40 days before it went supernova had shed a huge amount of mass.
view full LBNL Press Release
February 6, 2013 -A Massive Stellar Burst, Before the Supernova
An automated supernova hunt is shedding new light on the death sequence of massive stars—specifically, the kind that self-destruct in Type IIn supernova explosions. Digging through the Palomar Transient Factory (PTF) data archive housed at the Department of Energy's National Energy Research Scientific Computing Center (NERSC) at Lawrence Berkeley National Laboratory (Berkeley Lab), astronomers have found the first causal evidence that these massive stars shed huge amounts of material in a "penultimate outburst" before final detonation as supernovae.
view full NERSC Press Release
October 2, 2012 -Panofsky Prize Honors Researchers' Underground Hunt for Dark Matter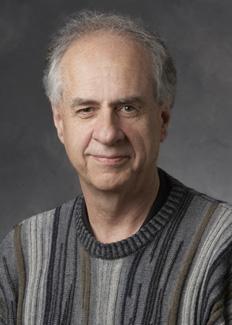 Blas Cabrera, the Stanley G. Wojcicki Professor in the Stanford Physics Department, who has a term appointment at SLAC, is a recipient of the 2013 W.K.H. Panofsky Prize in Experimental Particle... (Photo courtesy Stanford University)
by Glenn Roberts Jr.
The search for dark matter runs deep with physicists Blas Cabrera and Bernard Sadoulet, who have chased this mystery far underground and will be recognized for their work as joint recipients of the 2013 W.K.H. Panofsky Prize in Experimental Particle Physics. The prize is named for SLAC's founding director, Wolfgang "Pief" Panofsky, and awarded by the American Physical Society.
While some researchers are scanning the heavens with powerful telescopes to detect dark matter or crashing particles together in an effort to create and study its exotic components, Sadoulet, of the University of California, Berkeley, and Lawrence Berkeley National Laboratory, and Cabrera, of Stanford University and SLAC National Accelerator Laboratory, have sought the same answers in deep shafts largely shielded from cosmic rays and other unwanted particle "noise."
Their continuing, decades-long Cryogenic Dark Matter Search has brought them to several underground sites in the hunt for direct evidence of theorized weakly interacting massive particles, or WIMPs. If they are proven to exist, WIMPs could help define and explain dark matter, which is thought to make up about 25 percent of the energy density in the universe and is responsible for the formation of structure in the universe...
view full SLAC Press Release
September 24, 2012 -A Clock that Will Last Forever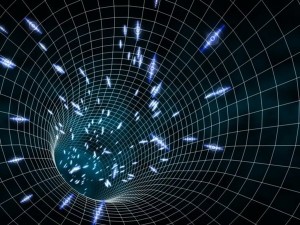 Imagine a clock that will keep perfect time forever or a device that opens new dimensions into quantum phenomena such as emergence and entanglement.
Berkeley Lab Researchers Propose a Way to Build the First Space-Time Crystal
Lynn Yarris (510) 486-5375 lcyarris@lbl.gov
Imagine a clock that will keep perfect time forever, even after the heat-death of the universe. This is the "wow" factor behind a device known as a "space-time crystal," a four-dimensional crystal that has periodic structure in time as well as space. However, there are also practical and important scientific reasons for constructing a space-time crystal. With such a 4D crystal, scientists would have a new and more effective means by which to study how complex physical properties and behaviors emerge from the collective interactions of large numbers of individual particles, the so-called many-body problem of physics. A space-time crystal could also be used to study phenomena in the quantum world, such as entanglement, in which an action on one particle impacts another particle even if the two particles are separated by vast distances...
view full LBNL Press Release
September 17, 2012 -Berkeley Lab Sensors Enable First Light for the Dark Energy Camera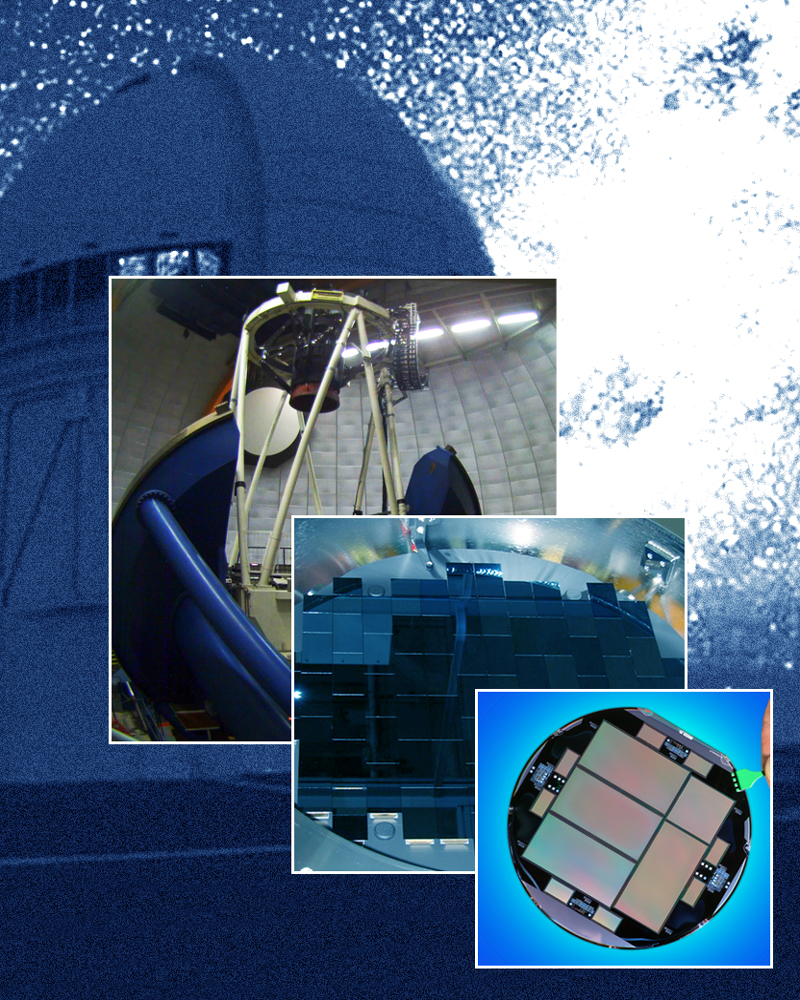 The Dark Energy Camera is mounted on the Victor Blanco 5-meter telescope at Cerro Tololo. Its focal plane consists of 62 large Berkeley Lab CCDs with exceptionally high sensitivity to the near infrared end of the spectrum. (Photos Roger Smith, NOAO, AURA, NSF; Blanco webcam; Fermilab; Roy Kaltschmidt, Lawrence Berkeley National Laboratory)
DECam, the most powerful sky survey instrument yet built, depends on Berkeley Lab's red-sensitive astronomical CCDs

Paul Preuss 510-486-6249 paul_preuss@lbl.gov

Early in the morning of September 12 the Dark Energy Camera (DECam), mounted on the Victor Blanco Telescope at the Cerro Tololo Inter-American Observatory in Chile, recorded its first images of a southern sky spangled with galaxies. Galaxies up to eight billion light years away were captured on DECam's focal plane, whose imager consists of 62 charge-coupled devices (CCDs) invented and developed by engineers and physicists at the U.S. Department of Energy's Lawrence Berkeley National Laboratory (Berkeley Lab).

Berkeley Lab CCDs are noted for their exceptionally high sensitivity to light (quantum efficiency), particularly in the red and infrared regions of the spectrum – a crucial advantage for astronomical CCDs searching for objects at extremely high redshifts. Combining the 570-million-pixel focal plane made of Berkeley Lab CCDs with the light-gathering power of the Blanco telescope's 4-meter mirror, DECam has unique ability to reach wide and deep into the night sky.


August 23, 2012 -Supernovae of the same brightness, cut from vastly different cosmic cloth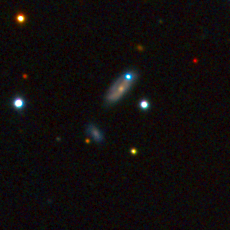 The supernova PTF 11kx can be seen as the blue dot on the galaxy. The image was taken when the supernova was near maximum brightness by the Faulkes Telescope North. The system is located approximately 600 million light years away in the constellation Lynx. Image Credit: BJ Fulton (Las Cumbres Observatory Global Telescope Network)
"
Berkeley Lab researchers make historic observation of rare Type 1a Supernova.
Exploding stars called Type 1a supernova are ideal for measuring cosmic distance because they are bright enough to spot across the Universe and have relatively the same luminosity everywhere. Although astronomers have many theories about the kinds of star systems involved in these explosions (or progenitor systems), no one has ever directly observed one—until now...
"
view full LBL press Release