The purpose of the University of California High-Performance AstroComputing Center (UC-HiPACC) is to realize the full potential of the University of California world class resources in computational astronomy. Read the letter from the Director
The Universe is about 100 million years older than perviously estimated and is expanding slightly more slowly; it also has slightly more dark matter and a bit less dark energy than previously suspected...


Cray XE6 supercomputer Hopper, named for 20th-century computer scientist Grace Hopper, performed most of the Planck calculations. Hopper is at the DOE National Energy Scientific Computing Center at Lawrence Berkeley National Laboratory. Credit: Roy Kaltschmidt
Read full story
Tau Ceti's five Earth-sized planets were not supposed to be there. They revealed themselves when Steven S. Vogt, astrophysics professor at UC Santa Cruz, and his collaborators were testing a new noise-analysis method on spectrometer data to calibrate a new computational technique...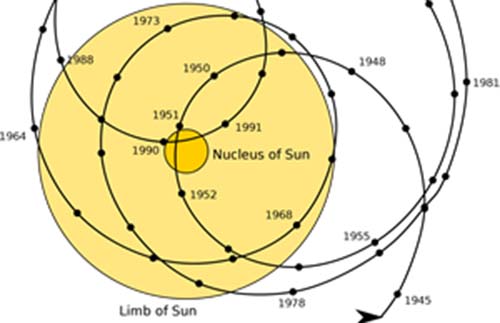 The Sun moves around the barycenter (center of mass) of our solar system, depending on the positions of the planets. Detecting barycentric movement of other stars from precision radial velocity (RV) measurements can reveal the presence of Earth-mass planets; the pattern of movement can reveal number, masses, and orbits. Credit: Carl Smith, Rubik-wuerfel
Read full story
UC-HiPACC will support focused working groups of UC scientists from multiple campuses to pursue joint projects in computational astrophysics by providing funds for travel and lodging. At the heart of UC-HiPACC are working groups. These groups will typically consist of collaborations of two to a dozen people, in practice mostly graduate students and post-doctoral fellows, from two or more UC campuses or DOE labs. Periods will typically range from a few days to a few months. UC-HiPACC funding can provide career-shaping opportunities for students in which they learn from other leading faculty members, master skills not taught on their own campus, line up writers for crucial letters of recommendation, and form other contacts and alliances that can powerfully shape their future careers. Some collaborations will also bring together senior astrophysicists with computer scientists and engineers to extend the state of the art in computation and data analysis. More Information
Read full story
UPDATE: Deadline extended to Saturday, March 23 - Star and planet formation are central drivers in cosmic evolution: they control generation of radiation, synthesis of heavy elements, and development of potential sites for life. Because star and planet formation involve numerous physical processes operating over orders of magnitude in length and time scale, computational simulations have become essential to progress in the field.

The objective of the 2013 UC-HiPACC AstroComputing Center advanced International Summer School on AstroComputing (ISSAC) is to train the next generation of researchers—current graduate students and postdoctoral fellows—in the use of large-scale simulations for problems in star and planet formation. The three-week school will cover many of the major public codes in use today, including tutorials and hands-on experience running and analyzing simulations. Students will receive accounts on the new 3,000-core supercomputer Hyades on the UCSC campus for the duration of the school. Download Press Release (PDF)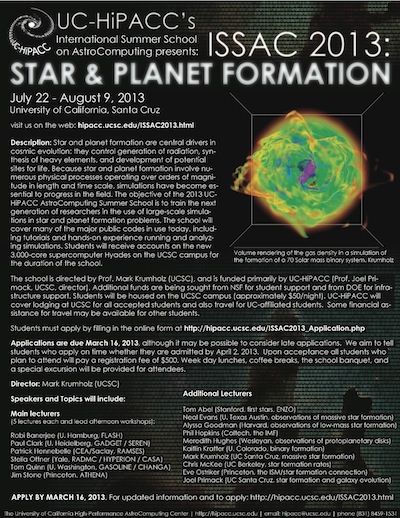 Read full story
UC-HiPACC—The First Three Years: 2010–2012 summarizes the Center's principal programs, activities, and achievements during its first three years, 2010-2012, as well as some looks ahead for 2013.

Read full story